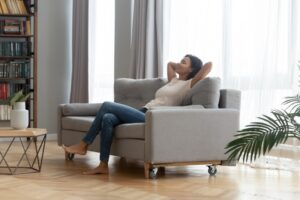 If you've ever wondered if a whole-home air purifier will benefit your household, the answer is probably yes. Why? Because the quality of your indoor air could quite possibly be worse than that of the air outdoors.
Homeowners today are hyper-aware that it's important to stay healthy inside their homes, and for good reason. While indoor air quality has become of a bit of a buzzword lately, it's always been important. It's one of those things you should care very much about. And our goal is to help you understand this as well as how a whole-home air purifier will help.
Keep in mind, while a big part of the focus these days on air purifiers is the prevention of virus transmission, there is no indoor air quality product that will completely eliminate this problem. But installing a whole-home air purifier will certainly help mitigate your risk.
"So, My HVAC Air Filter Isn't Enough?"
Well, no, it's not. There is a pretty common misconception that this air filter is in place to protect the home's indoor air quality. While it certainly won't hurt indoor air quality, this filter is designed to protect the HVAC systems themselves.
The return air vents on your air conditioner naturally draw in dust and other particles from the air, and the air conditioner's filter prevents those particles from pummeling and coating the system's interior components. Improving your indoor air quality is a nice bonus of this process, however it's very minimal.
While an HVAC air filter is vital to your HVAC system and important for your comfort, it's not enough to truly make a difference to your home's health.
The Whole-Home Air Purification Difference
When you hear the term "air purifier" you might picture something like a little robot-like unit that sits on top of a dresser or desk in your room, right? This is actually a portable air purification system. It's a great choice for a bedroom, an office space, or even a small studio apartment. But it's not so great for a home that has multiple rooms or multiple stories.
You would do well to consider the installation of a whole-home UV air purifier or electronic air purifier. Each of these have their own benefits! The electronic system draws in dust, dirt, and other debris into the system to be cleaned off later. The UV air purifier is installed directly into your ductwork and helps eliminate potentially harmful microorganisms such as bacteria, mold, or mildew.
Convenience and Cost-Efficiency
Whole-home air purification is not only convenient, but it's cost-efficient as well. As we said above, a portable air purifier can be great for one room, but that doesn't do much for you if you have a 4-bedroom household. Sure, you can purchase multiple portable systems, but then you are only cluttering up your space physically and creating a really noisy environment too.
A whole-home air purification system is conveniently installed directly into your ductwork, making minimal noise and costing you far less to maintain than multiple small portable systems.
Contact Boehmer Heating & Cooling when you're ready to install an air purifier in North Hills, PA.