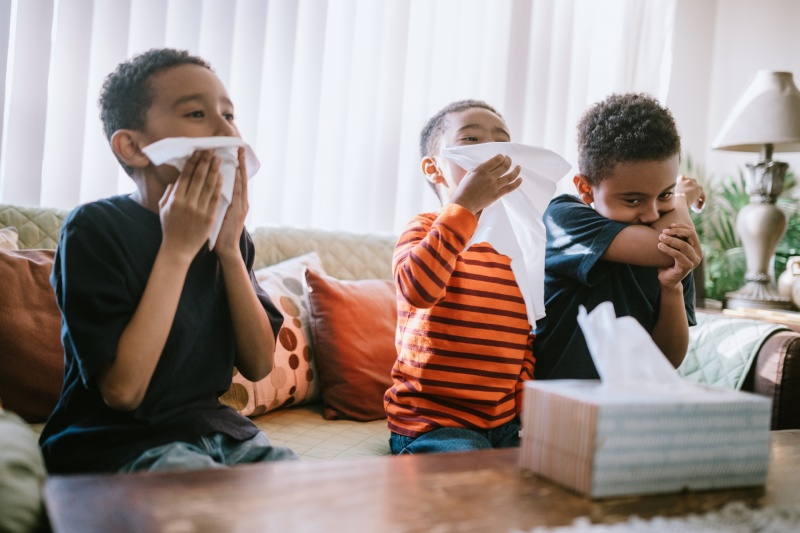 If you have small children in your home then you are likely well aware that it is cold and flu season. Hopefully, you've stocked up on plenty of medicines if the worst should happen and someone becomes ill.
Even if you don't have children, you likely don't want to get sick. And with many people still spending a large amount of time in their homes, it makes sense that you'd want to consider when aspects of your home can or can't protect you from the microscopic threats in the air. Improving your indoor air quality can help along with some of the other tips we've listed here.
7 Ways To Protect Your Home During Flu Season
We can help! Read on to learn about some of the different ways that you can set up your home to help protect you from colds, flus, and more.
Try to minimize the level of dust indoors. The focus on cleaning around the home shouldn't be delayed until spring cleaning season comes around. Take the time to dust off tables, chairs, bookshelves, nightstands, and any other surfaces you can find. The less dust there is in the house, the less it will aggravate your respiratory system.
Minimize the presence of mold. Throw out moldy food as soon as you find it. Clean moldy clothes or dishes with hot water and soap. If you notice mold in your home on the walls or ceilings, call a professional to help get rid of it sooner than later. Mold spores can easily make human beings sick so you'll want to try to keep it out of the house.
Change your system filters regularly. Your HVAC system has filters that keep debris out of the system when it pulls in air to warm up. It is a good idea to check your air filters regularly. This way you can determine when your need to change out a dirty filter, keeping dust out of your system and out of your ducts.
Adjust the temperature on the thermostat. Keeping your home warmer can help keep you more comfortable and healthier. When we get too cold, it can make it harder for the human body to protect itself from airborne contaminants. You don't want the house too warm which will increase your bills, keeping the thermostat set to around 68° can help keep you warm and reduce the risk of illness.
Keep moist areas well-ventilated. Bathrooms are areas of the home that see a lot of extra moisture. While many of us love spending time in a steam room, your bathroom isn't the place where you want to get too moist. Proper ventilation in your bathrooms can reduce the risk of mold growth and minimize the issues that can come with it.
Consider a system to help balance humidity. Airborne humidity levels need to be balanced to achieve optimal comfort. That's why it is a good idea to consider a whole-house humidifier to combat overly dry air. When your air is too dry, it can hinder your comfort and increase the spread of illness. Investing in a humidification system can help protect you.
Look at the benefits of an air purifier. Air purifiers are made to help clean your air. While air filters also help with this, air purifiers offer some extra protections that filters don't. Since these systems use electricity or UV light to clean the air, it means that they can help kill or get rid of viruses, bacteria, and mold spores along with the usual debris.
Looking to keep your home a bit healthier this year? Don't feel like you have to do it alone!
Call the friendly staff at Boehmer Heating & Cooling for exceptional customer service! We can help you find out if you'd benefit from a good indoor air quality system like an air purifier. Schedule an appointment today.