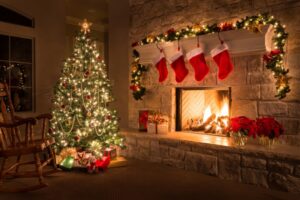 Ready or not, the holiday season is upon us. We want you to have a happy and healthy season, but we also want to help you have a safe holiday season. There are many ways to ensure this is the case.
Below, we've shared some of the most common holiday fire hazards and how you can avoid them. Read on, and when you need home services such as HVAC or home performance testing, we're the team to call.
1. Smoke Detector with Dead Batteries
This isn't directly a hazard, but it can lead to one! If your smoke detectors are not hardwired (or if the electricity were to go out) then you want to ensure you always have fresh batteries in them. This could be the difference between a small house fire that gets put out quickly or a big fire hazard.
2. Kitchen Fires
The American Red Cross cites cooking as one of the top reasons for house fires. The holiday season is an especially peak time for these types of accidents to occur, as hosts are rushing to cook while simultaneously entertaining family or guests.
The best thing you can do to avoid this kind of fire hazard is to do as much pre-cooking as you can before guests arrive, ensure the stovetop and oven are never left too far out of sight when they're being used and don't leave any towels or anything else that might be flammable near the stovetop (including spillage from oily or greasy foods).
3. Overloaded Electrical System
Older electrical systems actually have a hard time meeting the demands of the modern home. Even without adding holiday lights, most homes have electrical systems that are already nearing overload with the addition of charging cords, computers, entertainment centers, and more.
To protect your appliances from an overloaded electrical system, we suggest the installation of a surge protector. To avoid a fire hazard, we recommend being very mindful that you're not overloading your outlets. If you're going to use any type of outlet extender, it's best to go with a power strip instead of an octopus outlet.
4. Unattended Candles
Never leave a candle too far out of sight! The smallest spark can catch on a holiday decoration or a curtain in your home and lead to a house fire.
5. Ill Maintained Furnace
Gas-powered furnaces are not inherently dangerous, but without maintenance, they can become so. There are some maintenance tasks you should do on your own to ensure your heating system stays in great shape, including clearing the unit of any towels or debris by at least 2 feet on all sides, and ensuring that you change the air filter every 1-3 months.
For more thorough maintenance, you'll want to schedule an annual tune-up with our team so we can inspect, clean, and adjust the system as needed. This will ensure that your heater stays in the best shape possible and doesn't become another holiday fire hazard.
6. Unattended Fireplace
Whether you have a gas-powered or wood-burning fireplace, they both come with their unique risks if not maintained or used properly. Be sure to have your fireplace cleaned before you start using it this season, and when it is in use, make sure there is nothing too close to it that can ignite if a spark or loose ember gets to it.
7. Dry Christmas Tree
This is actually one of the leading reasons for a holiday fire–a Christmas tree that's gotten too dry. The best way to prevent this is to ensure you're keeping water in the tree stand, you're not leaving the lights on all night long (and that the lights are properly rated for indoor use), and that you dispose of the tree when it starts browning.
8. Flammable Gift Wraps
The materials used for most store-bought gift wraps are quite capable of catching on fire. The best thing you can do is keep your gifts away from anything flammable, including the fireplace and candles.
For HVAC services and more, reach out to our team! Call the friendly staff at Boehmer Heating & Cooling for exceptional customer service!