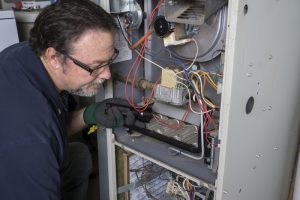 It's hard to imagine needing your heating system on a regular basis quite yet, but that time will come soon enough. When it does, you want to ensure that it's ready to perform as efficiently and effectively as possible, without fear of it breaking down suddenly on you.
Maintaining your furnace well before winter begins is a great idea, as it helps you fend off problems that can crop up and help prevent a scenario where you'll be stuck with a malfunctioning heater in the middle of the season when you need it the most. Keep reading to learn more about the benefits of getting your furnace professionally maintained.
Safety
This is, without argument, the most important benefit of furnace maintenance. The last thing you need to worry about is your furnace becoming a danger this winter. This is mostly a concern for natural gas furnaces, which are the most common type.
During your furnace tune-up, our highly trained and experienced technicians thoroughly inspect your heating system, looking for places where the system may develop safety hazards, like a cracked heat exchanger or loose gas line. The peace of mind you'll have after a tune-up is worth it all on its own.
Repair Prevention
When the temperature drops down this winter, you won't want to scramble to call for repairs just because your heater has abruptly stopped working. We do offer 24-hour emergency service, however, we would like to help you avoid having an emergency altogether! A professional maintenance session gives your furnace the best chance of making it through winter without any interruption in service.
Maintenance also stops smaller repair needs from growing into much bigger emergencies. In fact, it's estimated that keeping up with routine maintenance can prevent 85% of the repairs a furnace may ever need over its service life!
Longer Lifespan
Speaking of that service life, you want your furnace to last for as many years as possible before replacing it, right? An early furnace replacement is an expense we imagine you'd rather not take. Maintenance helps the furnace achieve the longest possible efficient service life.
Lower Heating Bills
A furnace that doesn't receive regular tune-ups and cleaning will begin to wear down faster than it otherwise would have. With problems like extra friction on the motors and burners struggling to produce enough heat, your furnace will drain more power than necessary to operate, causing an increase in your heating bills.
Maintenance helps your furnace retain 95% of its energy efficiency rating through its lifetime.
Maintain Your Warranty
The manufacturer's warranty on your furnace is likely only good if the furnace has an annual inspection and tune-up from licensed HVAC professionals. Be sure your furnace keeps this important protection by enrolling in our maintenance program!
We have a number of plan options, with our higher-end plan including not only a discount on repairs, but no additional labor charge, no diagnostic charges, and new equipment discounts (some restrictions apply). Please don't hesitate to contact our team to learn more about our offerings.
When you're ready to schedule furnace maintenance in Pittsburgh, PA, call the friendly staff at Boehmer Heating & Cooling for exceptional customer service!