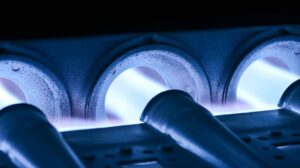 When is the best time of year to schedule a furnace tune-up? Well, many HVAC professionals, including our team, will tell you that it's fall—so, right now! But something that's much more important than the time of year you have this service done is how consistently you have it done. We do recommend fall because this is right before you will need your heater the most. If you commit to this service once a year though, you'll be sure to keep your heater in good shape.
During your furnace maintenance tune-up, our professionals comprehensively clean the system, inspect all the components to ensure proper functionality, adjust parts as needed, and alert you to any repair needs that require attention. All of this benefits you in the following ways.
Improves Home Safety
This is the most important part of furnace maintenance, especially if you have a gas-powered system. The last thing you need to worry about, after all, is whether or not your furnace will become a hazard. We're not saying that gas furnaces are inherently dangerous, but when they're not properly cared for they can certainly become so.
An ill-maintained heating system, whether gas or electric, creates the potential for fire. In fact, according to the National Fire Protection Association, heating equipment was actually the leading cause of 15% of all house fires from 2012-2016. We really can't stress enough how important it is to take good care of your heating system.
Another issue with gas furnaces is gas leaks, or more specifically, carbon monoxide leaks. This can happen when the heat exchangers within a furnace age and begin corroding, or get damaged by some other means. Carbon monoxide poisoning leads to hundreds of fatalities in the U.S. each year and is nothing to mess around with.
Prevents Many Repair Needs
When temperatures dip low enough, the last thing you want to do is scramble around to call for repairs or replacement because your furnace failed on you. We do provide emergency services, however, we'd like to help you avoid these unpleasant surprises altogether by making sure your furnace works reliably.
A maintenance tune-ups gives your heating system the best chance of making it through the winter without any interruption in service. Additionally, maintenance helps stop smaller repair needs and inconveniences that may add up in money and time wasted. Keeping up with your routine tune-ups will help you avoid 85% of the repair needs your furnace may ever need in its lifespan!
Extends Furnace Lifespan
Speaking of furnace lifespan, it's no secret that we all want our heating systems to last as long as possible. If that's the case though, you have to keep up on maintenance. Maintenance helps keep your system running smoothly and slows down natural wear and tear. This means that your furnace has a better chance of actually lasting the 10-15 years a furnace is supposed to last. You can see that lifespan cut in half by skipping your annual maintenance sessions!
Need quality furnace maintenance in Pittsburgh, PA? Call the friendly staff at Boehmer Heating & Cooling for exceptional customer service!