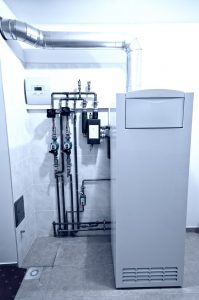 When on the market for something like a furnace, air conditioner, or any other necessity, it may seem as though the options don't really matter. Can one furnace really differ so much from another? Shouldn't you just let the technician pick out your new furnace for you? We don't think so.
There are so many features in a modern furnace that can make a huge difference in your comfort and in the amount of energy you use. Find a quality contractor, share your furnace must-haves, and make this winter the most comfortable ever!
Two-Stage Heating
When you turn on the burners on your stovetop, you have the option to set it higher or lower, depending on how much heat you need for cooking. When a burner ignites in a gas furnace, this isn't the case. Most furnaces can only heat at 100%, which isn't always necessary!
That's why you should look for a two-stage furnace when you shop around for the right model. On the coldest days that require a lot of heating power, the furnace will still run at full speed. But for milder days when the temperature only needs to change by a bit, a reduced speed allows for reduced fuel usage, resulting in both savings and accuracy.
Variable Speed Blower Fan
Another way to regulate the way your furnace works is with a variable speed blower fan. For both heating and air conditioning, a blower fan tends to run at only one speed—again, 100%. Of course, you don't always need to have warm air blasting into the room. Choosing a new furnace and upgrading to a variable speed blower fan will help you to save on energy costs. It also runs a lot quieter than the standard fan!
High AFUE Rating
If you choose a two-stage heating system, it's likely to have a high AFUE rating (Annual Fuel Utilization Efficiency). However, it's worth it to check, and to know what this means.
Some heating systems waste a lot of the energy they use during the heating process, as it escapes to the vents or around the heater. A 90 AFUE rating wastes only 10% of the energy it takes in, meaning 90% goes directly to heating. A 95 AFUE wastes even less. The higher the number the better.
However, you should know that a 100 AFUE electric furnace could still cost a lot to run, thanks to the high cost of using electricity to generate heat. In our area, gas furnaces are always highly recommended.
The Right Fit
Finally, a feature to look for is a furnace that is just the right size for your home. You could get the highest efficiency rating available for your heater and it would mean nothing if it was too small, or too large!
There is only one size that is the right fit for your home, and that may not be the same for your neighbors. Call in qualified heating contractors to make measurements and pick the right heater for your budget and long-term goals.
Get your new furnace in Whitehall, PA from Boehmer Heating & Cooling. Contact us today!