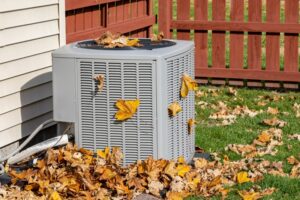 As the temperatures begin to drop and leaves start to change color, it's time to prepare your home for the change in season. If you don't have a checklist of fall home maintenance items, now's the perfect time to start one and we've got 5 essential items to add to the list.
These small tasks can make a huge difference in your home comfort this autumn and winter. You can help ensure your home stays comfortable, efficient, and well-protected during the cooler months. Let's get your home ready to embrace the joys of the season.
1. Schedule Heating System Maintenance
As the temperature starts to drop, it's the perfect time to arrange a professional inspection for your heating system. A comprehensive tune-up by our team is the best way to help your heating system function smoothly and dependably throughout the fall and winter. It's also the best way to ensure that you don't have any unexpected problems or breakdowns because it gives our technicians a chance to catch any issues before they escalate.
2. Clear Debris From Around Your HVAC Unit
There are two main components to your HVAC system: the indoor and outdoor units. Take a few moments to remove any leaves, debris, or plant matter that might be growing around your outdoor HVAC unit. This simple task maintains optimal airflow, enabling your system to operate efficiently and extending its operational life.
Inside your home, be sure to remove any items that may have accumulated in the area around your system over the summer. Bikes, camping equipment, outdoor furniture, gardening items, kids' toys, and a paddling pool should not be stored by your HVAC system. In fact, your system needs a clear, 3-foot perimeter around it to operate efficiently.
3. Replace the Air Filter
The air filter in your heating system has an important job. It keeps the interior parts free and clear of dust, dirt, and debris. When the air filter isn't changed on a regular basis, these things are allowed to enter, diminishing the efficiency and smooth operation of your HVAC system. This translates to wasted energy and increased strain on your equipment as your heating system struggles to perform.
4. Check for Leaks in Your Ductwork
Take a moment to make a visual inspection of your home's ductwork. After all, it is the "v" in HVAC: ventilation. Any holes, tears, or gaps can be problematic because they let out your precious conditioned air. Prevent energy waste and guarantee even heating across your residence with well-sealed ductwork. If you notice any glaring issues, give our team a call to assess your ducts.
5. Seal Air Leaks
A home with air leaks around its doors and windows is like walking around outside in freezing weather with your coat unzipped. While you're assessing your ductwork, check the areas around doors and windows, looking for gaps in caulk and weatherstripping. A great way to check for drafts is to carefully hold a lighted candle near your door and window frames (being careful not to get close to anything flammable). If the flame flickers in certain areas, you have an air leak.
Call the friendly staff at Boehmer Heating & Cooling for exceptional customer service! Schedule heating services in Allegheny County with our team today.