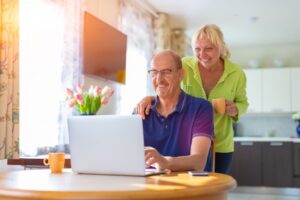 Furnace technology has advanced enormously in just the last decade. The furnaces of today are designed to be more energy efficient while reducing your carbon footprint. With greater energy efficiency comes a reduction in energy bills, and with how much you use your furnace during our cold, bitter winters, these are all benefits that homeowners are happy to reap!
So what do you need to take into consideration when shopping for a new furnace? Some key things to consider are its fuel type, AFUE rating, and blower speed. Let's take a look at these in depth.
Fuel Type
Depending on what fuel sources are available in your area, most homeowners need to decide between a gas or electric furnace. If your home is hooked up to a gas line, the best type of furnace would be a gas furnace that provides efficient, inexpensive heat year–round.
If you don't have a gas hookup, electric furnaces can be expensive to operate due to the cost of electricity. However, there are some very efficient electric furnaces on the market for those seeking to reduce their power intake. That brings us to AFUE ratings.
AFUE Ratings
In terms of efficiency, furnaces are measured by their AFUE rating. This rating is designed to describe how much fuel the furnace utilizes to produce heat. Today's furnaces all have AFUE ratings of 80% or higher which in a nutshell, means they utilize at least 80% of the fuel they consume to produce heat.
Some gas furnaces are capable of maintaining AFUE ratings of higher than 96%, using almost every drop of fuel they consume to produce heat. Keep in mind that the higher the AFUE rating, the more expensive the furnace will cost to purchase upfront. However, you'll enjoy much lower utility bills for the entire life of the furnace. That could be 15 years so long as you have it maintained regularly.
Operating Speeds
Variable speed furnaces are an innovative "new" furnace feature that you might not be aware of. These can make a huge difference in your energy use. Options include:
Single-stage furnaces are the most basic type of furnace with a single-stage (single-speed) motor. They operate at 100% capacity whenever they're running.
Two-stage furnaces have three settings, Off, Low, and High. On the Low setting, they run at 60-65% capacity and on High, they run at 100% capacity. They can automatically figure out when to adjust their settings and can shift into High" when the thermostat target isn't reached within a certain amount of time.
Variable speed furnaces are also known as modulating furnaces because of their exceptional ability to modulate the temperature of your home. Quieter in operation than single-stage furnaces, they operate the blower motor at multiple speeds in response to the fluctuating temperatures in your home. Even the smallest increment can really help maximize efficiency. A variable speed uses about 2/3 less energy than a single stage furnace and most homeowners will see a return on their investment within 4-5 years.
Call the friendly staff at Boehmer Heating & Cooling for exceptional customer service in Pittsburgh, PA! Schedule your furnace installation with our team today.