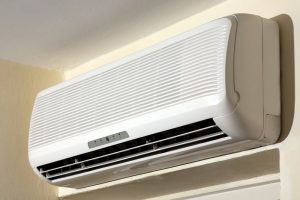 If you've only ever used a central air conditioner for your cooling needs, you might not know that there is a singular alternative that takes care of both your cooling and your heating needs—a ductless system! Also known as a ductless mini-split, this has become a preferred option for many homeowners. They're great at efficiently keeping homes warm in the winter and cool in the summer, providing you with year-round comfort.
We understand that choosing the perfect air conditioning system for your home may seem like a daunting task. There are, after all, many great options to choose from. Our advice is to speak with a trained professional before you make any final decisions. After all, not every home is well equipped for a ductless system, but yours may very well may be! Read on to learn more.
The Power of a Ductless System
As the name indicates, a ductless system is a heating and cooling unit that doesn't rely on ductwork. Rather, it uses one outdoor condenser unit, connected via a conduit to up to 4 indoor air handlers installed through the home.
Ductless systems work similarly to central air conditioners, transferring heat from inside your home and expelling it outdoors, but there's one big difference. A ductless system has a reversing valve that switches the flow of refrigerant—and this is what allows it to bring you year-round comfort. So, why should you go ductless? We have 4 potential reasons, below.
Versatility: Ductless air conditioners/heaters are able to bring you year-round comfort just with the flip of a switch. This means you don't have to worry about maintaining and repairing two separate units, nor do you have to worry about the costs of replacing two separate units when the time comes.
Space-Saving: Due to the nature of their setup, ductless systems save a lot of space in the home. After all, installing ductwork can be a hard and expensive process if the layout of your home is not accommodating. Some homes simply don't have the space for ductwork, so a ductless system can be a great option. The outdoor unit is smaller than that of a standard central unit, and the indoor air handlers can be mounted up on the wall, out of the way.
Cost-Effective: As we mentioned above, you don't need to worry about maintaining or repairing two separate HVAC systems. When you go ductless, you only have one system to worry about. What's more, is if an air handler breaks down, you're not stuck with an entirely broken down system as you still have the other air handlers—they're all individually controlled!
Energy-Efficient: Ductless mini-splits draw less power than other systems, particularly when used for heating. This is because they transfer heat, rather than generating it. They're more efficient in cooling mode too, since each air handler can be individually controlled. You can cool just one room if needed instead of turning on the entire system.
For ductless services in Pittsburgh, PA, call the friendly staff at Boehmer Heating & Cooling for exceptional customer service!