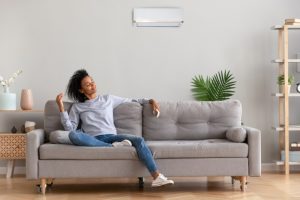 The official start of summer is just around the corner, and with us spending so much time indoors lately, you surely want to try to be as comfortable as possible. This starts with making sure your air conditioner is well maintained of course. If you haven't scheduled spring maintenance yet, it's not too late!
Indoor comfort, however, also has a lot to do with the quality of the air you breathe. Regardless of the time of year or circumstances, poor indoor air quality is a large concern for homeowners. Virus transmission is a risk, and contaminants such as pollen, dust, and smoke can get trapped in the home and cause allergy and asthma complications. Long-term exposure to poor IAQ can produce chronic symptoms, too, like fatigue and respiratory distress.
The good news is, there are solutions to this! Read on to learn more.
Change Your HVAC Air Filter
First off, we want to get an important misconception out of the way. The purpose of the air filter inside your HVAC systems is to protect the systems themselves from dirt, dust, and other debris that can get in and negatively impact components of the system. This means it's not actually there to protect your indoor air quality.
However, a clogged up and dirty filter can certainly hinder your indoor air quality. It doesn't allow dust and other debris a place to go, so the pollutants just continue circulating throughout the home. Plus, a clogged air filter restricts airflow and will hurt the efficiency of your air conditioner or heater—but that's a whole different topic.
Do Some "Spring" Cleaning
You'd probably be surprised to find out just how many pollutants and contaminants are trapped in your carpet and soft furniture. Dust mites, pet hair and dander, food particles, and even dirt you bring in from the inside get trapped. While you likely vacuum and clean on a regular basis, the thing is these particles get embedded.
For this reason, no matter what time of the year it is, it's a good idea to shampoo or steam clean your carpet every couple of months.
Find the Right Indoor Air Quality Solutions
We can help you with this! There are a variety of indoor air quality products and services out there to help you breathe easier, and we work with just about all of them. Our team is happy to help guide you on what solutions are best for your specific living space. For instance, a whole-house air filtration system may be enough, or you may find that germicidal UV lights are a great choice.
Germicidal lights are installed in your ductwork, where they can effectively eliminate potentially harmful bacteria such as mold and mildew.
We also install and service humidifiers for when the air is just too dry—this isn't a problem in the summertime, but when temperatures cool down again and the humidity makes it seem even colder, you'll be grateful for a quality humidifier.
When you need reliable indoor air quality services, call the friendly staff at Boehmer Heating & Cooling for exceptional customer service!