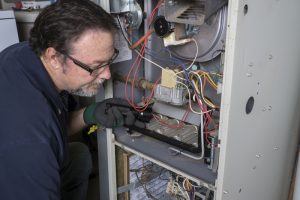 There are a number of reasons a homeowner may choose to invest in an electric furnace over a gas-powered system. For one, they may not even have access to their municipal's gas line. Another reason might be that they're worried about the safety hazards that a gas-powered system presents.
That's not to say gas furnaces are inherently dangerous. In fact, today's systems are built much sturdier than those of the past, and so long as you have your system professionally installed and serviced by trained professionals, you shouldn't have much to worry about.
However, just like any other powerful appliance, gas furnaces do need routine maintenance done. And skipping this service certainly can leave you in danger—in danger of a carbon monoxide leak due to a cracked heat exchanger.