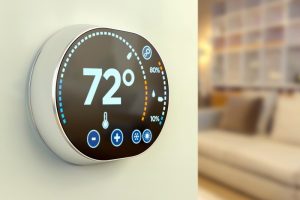 And if your thermostat is outdated, does it matter?
Well, yes. Using outdated technologies often means you aren't getting the most efficient or cost-friendly use out of them, and your thermostat is no exception. Your heater and air conditioner can be the highest-efficiency systems on the market, but with a malfunctioning, or old and ineffective thermostat, that might not mean much.
The thermostat is essentially the brain of your HVAC system, tasked with maintaining a comfortable temperatures inside your home. Today's thermostats—smart thermostats but even the basic digital thermostat is an upgrade from the old manual slider devices still found in any homes—can do so much more than an outdated device. You may be wondering, "Do I really need a thermostat that can do more than just set temperatures?"
Of course you can keep things basic, but a smart thermostat offers a number of benefits that can save you energy, money, and frustration.