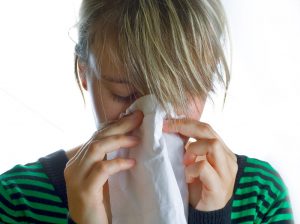 No, although this is a common misconception. Your furnace or ducted heat pump doesn't produce dust any more than a boiler or a ductless system might. What your forced air heater does do, though, is circulate dust, allergens, and other debris throughout your home. That's not to say you shouldn't use your heater! It just means that you'll need the right indoor air quality system(s) in place to combat this—such as a whole-house air purifier.
"Isn't That What the Air Filter Is For?"
Ah yes, the air filter that comes standard with your HVAC system. It is there to block dust, dirt, allergens, and other contaminants. But its primary purpose is not actually to protect your indoor air quality, but rather to protect the interior components of your forced air heater, and air conditioner.
That said, you should be changing this air filter out every 1-3 months, depending on the type of air filter it is and the level of contaminants in your home (i.e. a home with pet dander and cigarette smoke may need an air filter change more often than a home without).
The Whole-House Air Purifier
To truly eliminate all allergens and dust from your home, you may need a combination of indoor air quality products, including the purifier but also possible an electronic or mechanical air cleaner. The whole-house air purifier is definitely a good place to start, though.
Unlike a portable system, the whole-house air purifier is a cost-effective way to ensure your whole home stays comfortable and healthy throughout the year. We've listed some key benefits of having this system installed, below:
Cost Effectiveness
There are small, portable air purifiers on the market. However, you're lucky if it handles maybe two rooms in your home at once—which leaves you investing in multiple units to place throughout your home and no guarantee that you are truly eliminating all the particles in your air.
A whole-house system is more cost efficient as it is just one single system that can be installed directly into your HVAC system. An added bonus is although your HVAC system's air filter isn't designed to protect your indoor air quality, using an air purifier will help that air filter last longer—so you won't have to replace it as much and you can save money there, too.
Convenience
As we stated above, a whole-house air purifier can be integrated right into your HVAC system, or its ductwork. This means you don't have to worry about taking up any space with modular units around your home, and you can count on uniform indoor air quality throughout your living space 24/7.
A standard air purifier will not mitigate microorganisms like mold and mildew that lurk in your ductwork—you'll want to invest in a UV air purifier for this—however it does help keep this problem from even starting by removing other contaminants from the air.
Call the friendly staff at Boehmer Heating & Cooling for exceptional customer service throughout Pittsburgh, PA and the surrounding communities.