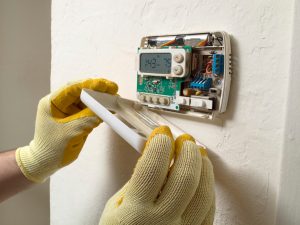 The first place to look when a heating system is not working the way that it should is the thermostat. This is what most people do, anyway, but it may be a bit more confusing an endeavor than expected. Today's programmable thermostats can have complex settings that may be difficult to understand. And you may be wondering how to tell whether your thermostat is actually at fault.
That's what we're here for. We hope to help you decipher some of the mystery behind your thermostat so you know what to look for when something goes wrong. If you aren't getting heat from your thermostat and HVAC system, give us a call or read on for some questions to ask yourself.
Have you set the thermostat high enough?
As long as you've set the thermostat higher than the temperature in the room, you should be fine. The larger number appearing on the screen of a digital thermostat is the current temperature, whereas the smaller number is the target temperature. Wait a few minutes after adjusting temperatures before assuming something is broken, as furnaces take some time to heat up.
Is the thermostat in a mode other than auto heating?
Double-check that the switch on the side of the thermostat is set to heating. Then, make sure the fan setting is switched to "auto." Many people complain in the winter that the furnace is blowing out a lot of cool air. It sometimes turns out that the thermostat is simply set to "on" instead of "auto." This means that the fan will remain running nonstop, even if the furnace is not running!
Do you need to reset a circuit breaker?
Are you not getting any display at all from your thermostat? You might only need to reset the circuit breaker that goes to the thermostat to ensure power gets to the room (or replace a blown fuse). If there is a display on screen, you might try resetting the circuit breaker that leads to the furnace. Even a gas furnace needs electricity to run!
Is the thermostat properly connected?
Thermostat installations should not be a do-it-yourself job. We often find that the thermostat is not properly wired, or that wires were switched so that some functions of the thermostat may work while others do not. Another common problem with thermostat installations is that they are often placed in warm areas (like near a kitchen) so they may not heat the home to your desired settings. Be sure to call in professionals!
Is it really the thermostat?
Finally, you should know that a broken thermostat is rarely the reason for a problem within a furnace or air conditioner. Think of all of the components within a heater: burners, blower fan, valves, and safety switches. Any one of these could malfunction and force your heater to shut down. This could be caused by something as simple as a dirty air filter, but usually, you'll need technicians to repair a problem.
Get your heating repairs from the pros at Boehmer Heating & Cooling. We service all makes and models of HVAC in Whitehall, PA.