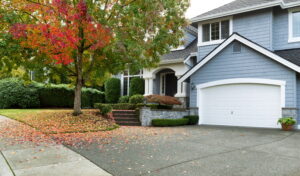 We all know that garages are used for so much more than simply parking your cars–you may have a workbench you do projects from, your washer and dryer may be out in the garage, and you likely even have plumbing lines running through the space, whether behind drywall or exposed underneath your garage sink.
Chances are too, that you would like to be able to use this garage space all year long, not just when temperatures are warmer in the spring and summer. The good news is that it's entirely possible to enjoy your garage, no matter the time of year. How? Read on!
Invest in Great Insulation
How well-insulated is your garage? Insulation prevents heat transfer. This means that in the summer while it keeps heat out, in the winter it keeps heat in. This can help with things like preventing frozen pipes, keeping the space comfortable if you are doing projects or tasks that require your presence in the garage, and keeping any equipment you keep in the garage in good shape.
Safely Use an Electric Space Heater
Electric space heaters are great options if central heating isn't something you can do right now! Of course, you do want to ensure that you're using this as safely as possible. While the fire hazard risk is low, any type of space heater comes with a little risk.
You should only ever use space heaters with supervision–especially if children or pets have access to the garage. You should also ensure that you have at least 2 feet of space around all sides of the space heater and that no flammable objects are near it (such as greasy rags left behind from working on the car).
Have a Ductless System Installed
If you do have the resources to add central heating to your home, or expand your current system, consider going ductless! A ductless system is set up similarly to a central air conditioner, except that instead of a single indoor air handler that relies on ductwork, the outdoor unit can be hooked up to 4 ductless air handlers that can be mounted wherever you need it (typically above a doorway).
A ductless air handler is a perfect, safe, and efficient addition to your garage!
Eliminate Drafts
In addition to ensuring that you have proper insulation, you should make sure that any doors or windows in your garage have proper weather sealant or weather stripping too. This will reduce the chance of hot air getting out and cold air getting in when you don't want it to.
Consider Radiant Heating Beneath the Flooring
If you've been considering reflooring your garage, consider adding in radiant heating! The tubes for this system go below the foundation of the house, and instead of heating the air, heat the surface. You can also have the tubes hooked up to an electric radiator in your garage. This is a touch safer than using a portable space heater–though some of the same rules apply, such as keeping the space around the radiator clear and having no flammable material nearby.
Consider Floor Covering for Better Insulation
Need quality heating services in Pittsburgh? Call the friendly staff at Boehmer Heating & Cooling for exceptional customer service!