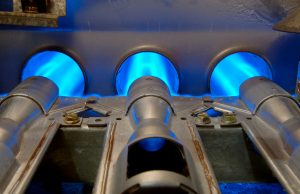 Are you one of the over 64 million homeowners in the U.S. who use natural gas for winter heat? It is that popular—but that also means that there are more people that may be dealing with safety issues. We don't mean to say that gas furnaces post an inherent risk to homeowners—they don't. They wouldn't be installed in so many homes if so. In fact, current standards for gas-heating manufacturers put a special emphasis on maintaining safe operation.
But, if your furnace isn't well cared for, you could certainly run into problems. No gas-appliance can be 100% problem-proof if it's not adequately maintained. There's one gas furnace danger, in particular, you should be aware of in an ill-maintained system, and that's a cracked heat exchanger.
What's the Heat Exchanger?
This is the metal chamber within your furnace that actually heats up the air form combustion gas. It transfers heat to the air passing through the furnace cabinet—in other words, the heat exchanger is where the actual "heating" part of your system's operation occurs.
The exhaust gas within this heat exchanger is toxic, however the furnace vents it safely away and out of the house through a flue. If cracks form in the heat exchanger, then these harmful gases can escape as the metal expands from the heat. These gases enter the air in the living space, exposing you and your family to them.
Heat exchanger damage usually only occurs in furnaces that are aging—systems that are 10-15 years old or beyond. This is enough time for corrosion to set in from the chemical reaction of the metal of the heat exchanger and combustion gases. We do recommend that if your furnace is older than this, you consider replacement.
Have Your Furnace Routinely Maintained
The best way to prevent harm from a cracked heat exchanger—or any other furnace safety problem—is to have maintenance done on the system each and every year. We recommend that you schedule heating maintenance in the fall, before you need your system the most.
However, it's more important that you have maintenance done consistently—if you haven't scheduled maintenance yet this year, it's certainly not too late. During maintenance, our technicians thoroughly inspect, clean, and adjust your heater. We'll also alert you to repair needs—and yes, cracked heat exchangers are one of the things we check for.
You can count on a safer system operation when you have regular maintenance done on your heating system. The last thing you need to worry about is that your furnace will become dangerous during the winter. Maintenance also helps prevent the majority of repair needs—in fact, you might be able to avoid up to 85% of the repairs a furnace may ever need in its lifespan just by keeping up with maintenance.
Maintenance also extends your furnace's life! We mentioned how a cracked heat exchanger typically only occurs in older furnaces—but other problems can take out your furnace far sooner than that. With regular maintenance, you have a better chance of your system actually making it to that full 15 years.
Need furnace repair in Pittsburgh, PA? Call the friendly staff at Boehmer Heating & Cooling for exceptional customer service!