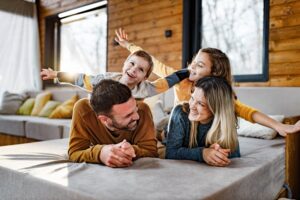 With all the heat and humidity that August brought, it may seem strange for us to already be talking about furnaces. But the truth is, when winter hits our area, it hits hard. The best thing you can do for your home and for your family is to be prepared!
This means making sure your air quality is taken care of, you have a generator ready in case any storms bring power outages, and you have scheduled heating maintenance. This last point is the one we're going to talk about today.
HVAC maintenance is a service we recommend once for your furnace or heating system each fall, and then once more for your cooling system each spring. The timing of your HVAC maintenance appointments doesn't matter as much as the consistency of these appointments. Each system should be professionally tuned up and maintained at least once a year.
Read on to learn why this is so important, especially if you have a gas-powered furnace!
Safety First!
Safety is the main reason we so highly recommend furnace maintenance once a year. The majority of furnaces used in our area are powered by natural gas, and while these systems are not inherently dangerous, they certainly have the potential to become hazardous without the right level of care.
During your maintenance tune-up, our experienced professionals check the gas line and heat exchangers to ensure there is no damage, and therefore no danger of carbon monoxide leaks. If our pros do find anything wrong, we can get you on the schedule for repairs right away, or even recommend a furnace replacement in the case of an aging system.
Remember, even if you're reading this post and have an electric furnace instead of a gas-powered one, it's still important to have routine maintenance done.
Keep That Warranty Current
The manufacturer warranties that come with most furnaces have a clause that the equipment must receive routine, professional maintenance, and repairs. If the furnace is not serviced by a qualified professional, the warranty can be voided, and you could find yourself paying for repairs or replacements that would have otherwise been covered. Maintenance keeps you protected from manufacturer faults.
Prevent Repair Needs
Did you know that routine maintenance can help you avoid up to 85% of the repair needs your air conditioner might ever have? This is because, during maintenance, we're able to catch small, wear-and-tear issues and alert you to them before they even have the chance to grow into much bigger and more expensive problems.
Boost System Efficiency and Life
When you stay on top of wear and tear issues through routine maintenance, it helps your air conditioner retain its original efficiency rating and can even prolong the lifespan of your air conditioner. A cooling system that's well maintained can be expected to last about 10-15 years, while one that goes without maintenance may only last half that.
Our Maintenance Program
Ask about our maintenance program! We have a couple of different plan options to suit your needs and your budget. Either plan will provide you with complete precision tune-ups, professional cleaning and inspections, and peace of mind. Reach out to our team today to learn more.
Call the friendly staff at Boehmer Heating & Cooling for exceptional customer service! For Pittsburgh, PA heating maintenance and more, we are your local resource.